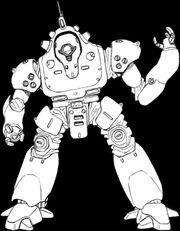 Unit type: Muti-Purpose Labor
Manufacturer: Hishii Industries
Commencement of sales: February 1998
Height: 7.45 metres
Width: 5.12 metres
Standard weight: 7.89 tons
Full equipment weight: 8.22 tons
Maximum weight lifting capacity: 2.9 tons
Armour materials: Fibre Reinforced Plastic, Aluminium
Minimum revolving radius: 5.5 metres
Appearances in anime: Original OVA Series (aka Early Days) Opening Animation;Patlabor the movie; TV Series episode 46
Ad blocker interference detected!
Wikia is a free-to-use site that makes money from advertising. We have a modified experience for viewers using ad blockers

Wikia is not accessible if you've made further modifications. Remove the custom ad blocker rule(s) and the page will load as expected.