Specifications:Edit

'
Unit type:
Construction Labor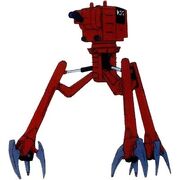 Manufacturer:
Shinohara Heavy Industries
Commencement of sales:
October 1993
Height:
10.56 metres
Width:
6.70 metres
Standard weight:
9.11 tons
Full equipment weight:
9.85 tons
Maximum weight lifting capacity:
18.5 tons
Armour materials:
Reinforced Steel
Optional equipment:
Rocket Fired Grappling Arm x 5 (Wire Rope Length: 30 metres)
Appearances in anime:
Original OVA Series (aka Early Days) episode 1; TV Series episode 37
In the firs episode of the first OVA, Noa says that the name "Pickle" is stupid, to which Asuma replies "That's what I've thought".
Ad blocker interference detected!
Wikia is a free-to-use site that makes money from advertising. We have a modified experience for viewers using ad blockers

Wikia is not accessible if you've made further modifications. Remove the custom ad blocker rule(s) and the page will load as expected.