Specifications:Edit
Unit type:
Unmanned Underwater Exploratory Labor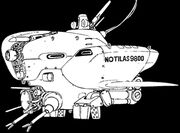 Manufacturer:
Buchiyama Heavy Industry
Commencement of sales:
April 1998
Height:
1.96 (Legs Retracted) 3.30 metres (Legs Deployed)
Width:
2.45 metres
Standard weight:
0.65 tons
Full equipment weight:
0.85 tons
Armour materials:
Reinforced Steel
Standard equipment:
Manipulating Arms x 2
Appearances in anime:
Original OVA Series (aka Early Days) episode 3; Patlabor the movie
This unmanned underwater Labor is equipped a variety of sensors such as heat detectors, infrared light camera and magnetic sensors and is operated from a ship on the surface of the water via cables which supply it's power. It was used by Shige in the Original OVA episode "The 450 Million Year Old Trap".
Ad blocker interference detected!
Wikia is a free-to-use site that makes money from advertising. We have a modified experience for viewers using ad blockers

Wikia is not accessible if you've made further modifications. Remove the custom ad blocker rule(s) and the page will load as expected.